After the turmoil caused by Covid and lockdowns in recent years, 2022 brought with it a new set of challenges for many businesses. Fortunately, we continued to grow and innovate as a company despite the wider economic uncertainty.
The demand for engineering expertise remained high among our TechCo clients and we developed some powerful new tools to support our TelCo clients. We expanded some internal teams, launched a number of new employee initiatives, made significant strides in our community projects and carried out an extensive brand refresh. These are just some of our highlights from the last 12 months.
Client news
This year, we provided software partnering services for a group of new clients who innovate in the security, mobile retail and fintech industries. Together, we worked to design and develop products that could unlock new markets and help them accelerate roadmap delivery.
One milestone worth calling out was our final major software delivery for National Broadband Ireland (NBI). This was completed on schedule to help NBI meet the demanding automation and analytics requirements mandated by the Irish government as they roll out the National Broadband Plan - the biggest infrastructure investment in rural Ireland since electrification.
After a gap of two years due to lockdowns, our famous client reception in the Shelbourne Hotel made a welcome return. There was a fantastic turnout and it was great to see so many familiar faces. Thanks to everyone who came along and here's to more successful partnerships in the new year!
New tech
We were delighted to launch our SwitchedOn Fibre™ automation solution for the rapidly emerging Gigabit FTTH (fibre to the home) market at Connected Britain in September. This launch was the culmination of a major investment in this next-generation FTTx BSS software suite. It's built on contemporary cloud technologies and engineering practices to help fibre operators automate the lead-to-cash journey across wholesale, retail and enterprise services.
It's part of our DNA to constantly research and evaluate new software technologies, tools, processes and approaches to software partnerships.
We combined our enthusiasm for Rust and open source technology when we started work on a Rust-based SNMP agent simulator. Not only does this project provide a tool for internal test and development, but it also provides a focus for some of our engineers with an interest in Rust to develop their skills. You can catch up on outputs of various other initiatives on our blog, including a look at how to provide secure authentication in legacy systems that don't support Single Sign-On, and a post on how to get integration testing right.
Over the last 12 months, we targeted the emerging space of AIOps to apply our capabilities in Data Science. As part of that work, we built and trained several machine learning models that could solve client problems using predictive analytics, anomaly detection and event correlation. These models have already been used to enhance VisiMetrix, our AIOps enabled network service analytics solution for telecom operators.
Events and meetups
Connected Britain wasn't the only industry event where we showcased our products, services and company this year. We also exhibited at the 2022 INCA Conference in November and the Telco AI World Summit in April.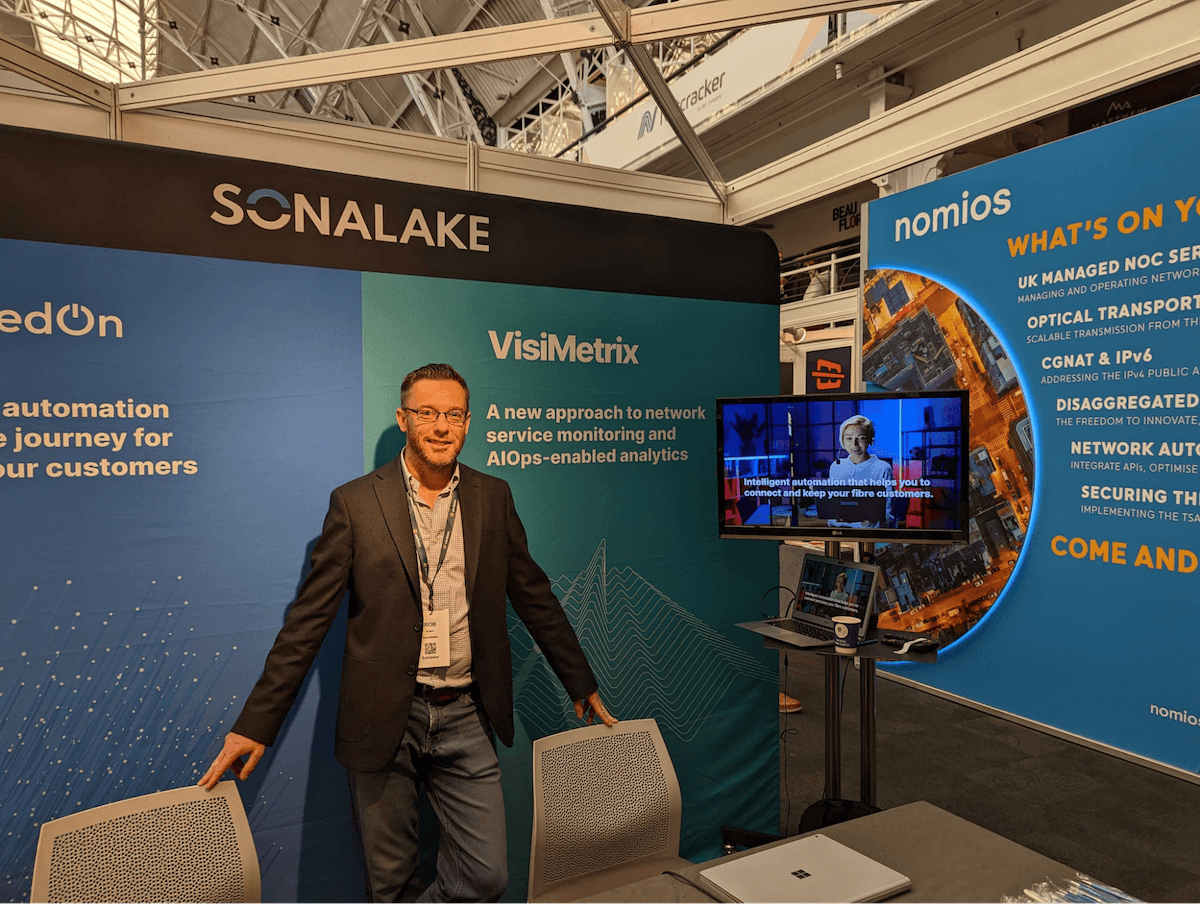 In November, Head of Design Egle Venclovaite and Principal Solutions Engineer Caitriona O'Dwyer met with female talent in the tech industry as part of Women Hack. In March, CTO Ciaran Treanor was a guest on the Design Talk podcast, where he discussed managing distributed teams, innovation and building a healthy organisation.
We also supported and initiated a number of industry meetups. We hosted the first Bratislava Rust Meetup in November, with thanks to Frank Horváth and Tomáš Jašek for setting it up. Other notable meetups included a Java User Group Poznań meetup in October, where Martyna Zarzycka spoke about how our BSS team leverages the Camunda process engine in SwitchedOn Fibre™. Friends of Figma Dublin was established by our Senior UX Designer Mitch Eva in September, and it's been growing steadily with the help of co-host Jamie Ryan.
A brand refresh
After months of hard work, our in-house design team launched our new logo, website and brand refresh in September. The team normally focuses on services like product design and user experience (UX) but took on the challenge of improving alignment between our brand's visual identity and our core values. We're incredibly proud of our revamped visual identity, which better captures our company's personality, values and vision.
Awards
It's always nice to have our work recognised in the industry and we were up for a number of prestigious awards in 2022, with a particular focus on our work in data science. We were finalists in the Analytics category of the Analytics & AI Awards, for a project to predict the impact of weather on quality of service (QoS) in mobile networks.
The same project was a finalist in the Best Use of AI in a Consumer/Customer Service Application category in the AI Awards Ireland. We were finalists in three categories at the awards. This included the Best Application of AI in an SME category for our project to automate anomaly detection for network service providers. Farooq Shaikh was also a well-deserved finalist in the Young AI Role Model of the Year category.
We also made the finals of the Tech 4 Good – Community Award category in the Technology Ireland Industry Awards. This recognised our efforts to promote technology in education, most notably through our work with Kinia and the Gatoto School in the Makuru slum in Nairobi.
Giving back
Speaking of Gatoto School, we were able to provide a much-needed upgrade to the computer lab we installed a decade ago. This included new laptops, network equipment, a radio internet connection, learning content software and training for the teachers. We're now working with the school and a series of experts to develop digital learning programs that align with the national curriculum. The goal is to create a positive example of what's possible in the region.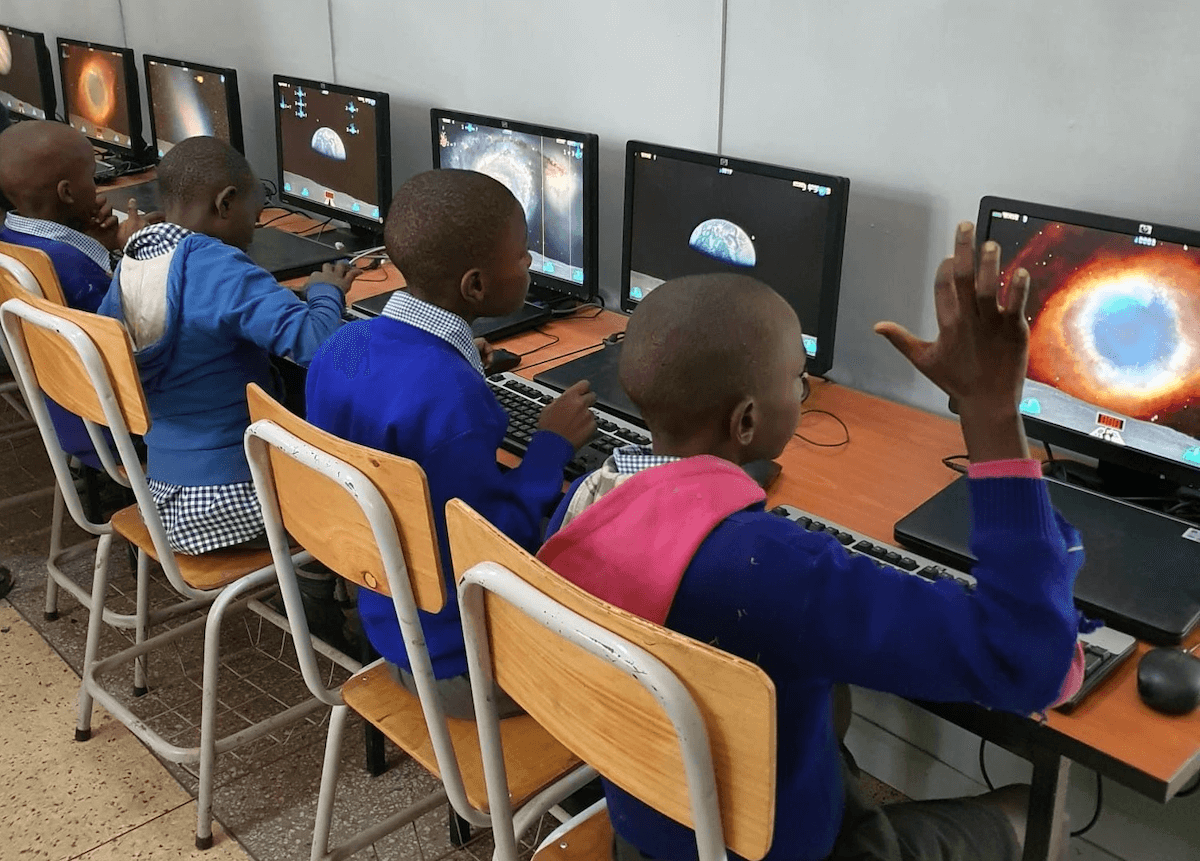 We also continued to support Kinia, the not-for-profit organisation that promotes education using creative technologies, with a focus on less-advantaged communities. It recently held its inaugural Kinia Creative Educator TechFest, an incredible event that provided inspirational talks, discussions and workshops for educators.
Support for Ukraine
The outbreak of war in Ukraine was impossible to ignore and we did our best to help with the fallout of the conflict. As a company, we donated 100,000PLN to Polish Humanitarian Action to help Ukrainian refugees. We did our best to help local staff and provide logistical support to provide refugees with essential supplies like first aid kits, medicine, clothes, blankets and food. We also supplied laptops and developed a PayPal-based solution that allowed people around the world to buy pizza and get it delivered to children in Kyiv.
Individual Sonalakers rallied to support refugees through donations and with practical help on the ground. This included driving to the border to pick up families and take them to shelters. Others with a background in psychology provided free trauma counselling for those who needed it.
Seasonal challenges
There was a great response to our two seasonal challenges – the Spring Challenge and the Autumn Challenge. Our Spring Challenge encouraged healthy competition in more ways than one, while also raising money for some very deserving charities.
Over six weeks, our active competitors racked up points for physical activities that ranged from walks to longboard riding to yoga. Congratulations to this year's winners, Dawid Hodura, Gordon McGuire, and František Horváth.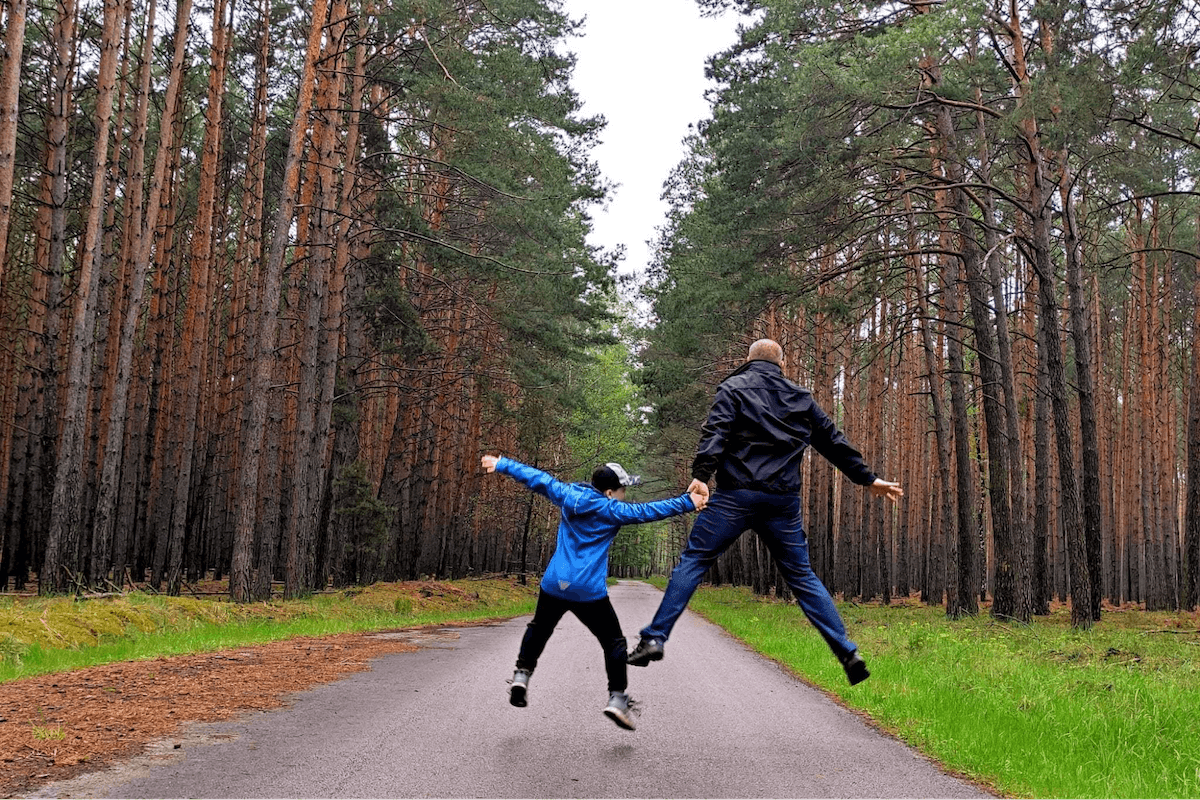 Our Autumn Challenge focused on how to lead a greener life and do your bit for climate change. Over eight weeks, people stepped up to get involved, share tips and give informative talks on minimalism, upcycling, waste reduction, meat-free meals and reducing your carbon footprint. We all learnt a thing or two along the way, whether it was the five Rs of zero waste or how to make a tasty vegan arrabbiata. Charlotte Fawsitt, Maciej Sikora and Malgorzata 'Zuzanka' Krzyżaniak emerged as our climate challenge champions.
Community news
Throughout the year, we hosted meetups and team visits in the Dublin, Poznań and Bratislava offices. Our largest gathering saw 40 Sonalakers from Ireland, Poland, Slovakia, Hungary and Czechia visit our Bratislava office. There were also fun gatherings like the Polish team's winter retreat in March, where over 30 Sonalakers hit the Czech skiing slopes.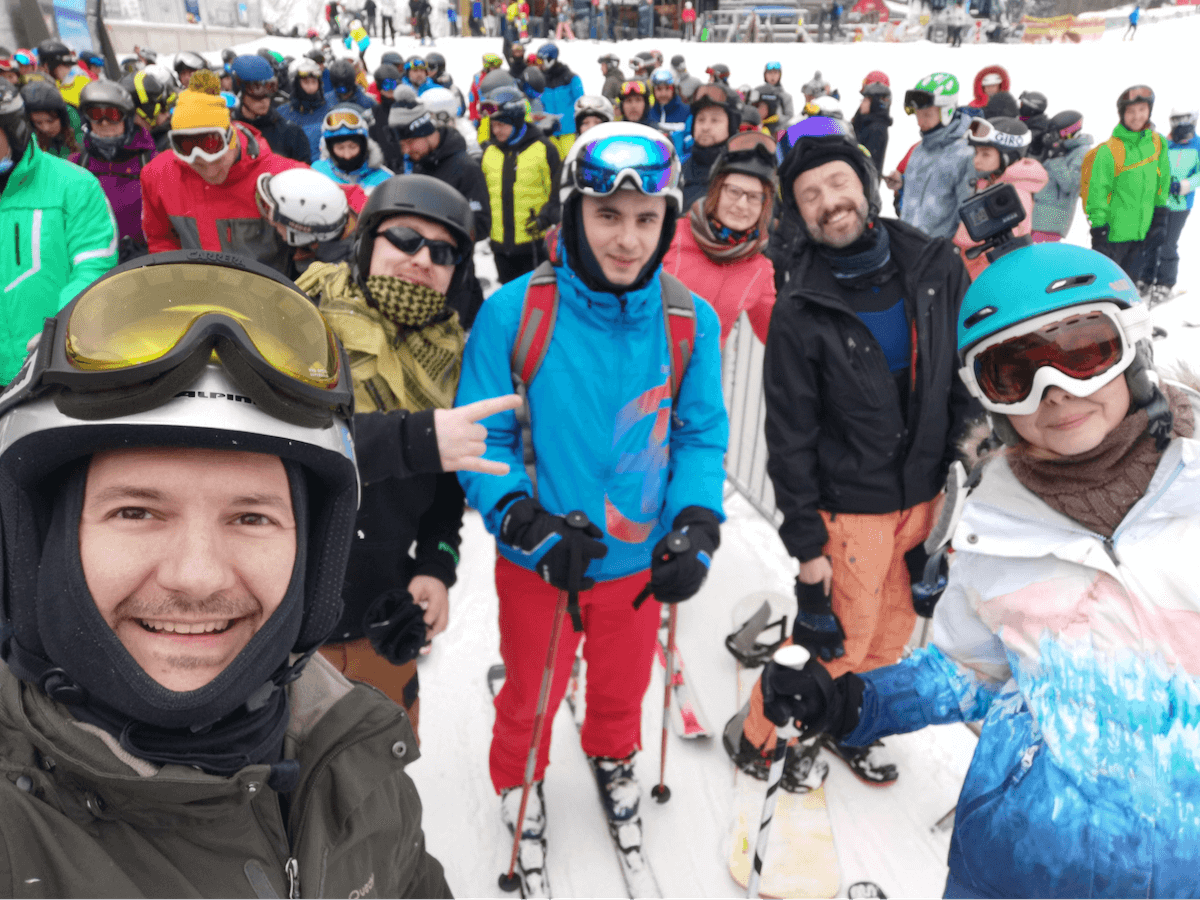 As a remote-friendly company, opportunities to meet up in-person is something we relish. Each project team also had a chance to meet up at least once during the year to reflect on work done, plan ahead and enjoy some social time together. A special shout out to the brave visitors who took a dip in the Forty Foot bathing spot on a November visit to Dublin (Brrrr!).
We connected online throughout the year with lots of knowledge-sharing events. We had 36 TGIFs covering diverse topics that included everything from impact mapping to event storming, regular all-hands meetings and several webinars. Thanks to everyone who stepped up to give talks throughout the year.
We've increased spending on training and development. Eighty Sonalakers completed our new Leadership Academy, which provides 10 workshop sessions to develop leadership and team skills. Other new initiatives included the application of health check methodology to measure the health of our project teams.
We also started a diversity and inclusion taskforce to ensure that Sonalake is as accessible, inclusive and welcoming as it can be. It's part of our ongoing attempts to make sure that this is a great place for anyone to work. We're still hiring for open roles in Ireland, Poland, Slovakia and Hungary so check out our jobs page if you know someone who would be a good fit for the company.
For more updates from 2022, you can check out our blog and news section.