We've changed… although we're still the same trusted software partner, with the same great people, and the same appetite for innovation.
But you might do a double-take the next time you see us. That's because our in-house design team has just completed an exciting brand refresh. We normally focus on design services like product design and user experience (UX) but we recently set out to align our brand's visual identity more closely with our core values.
We felt this was a perfect time for a new visual identity that depicts who we are – a modern, inclusive company that's constantly evolving and focused on innovation. People are at the heart of everything we do and we're always looking for inventive new ways to support our people and deliver for our clients. We're all about collaboration and listening to our users, our customers and each other.
We wanted to develop a new visual identity that would make an impact and represent these values, with a focus on concise communication and polished visuals. As part of the refresh, we've redesigned our website, logo and other branded assets.
What's in a name?
The name Sonalake comes from a combination of 'sona' and 'lake.' Sona represents light, transparency, innovation and warmth while Lake represents fluid thinking, trustworthiness and calmness. This duality is at the core of our brand so it was important that it be represented in our new visual identity.
Our new logo
Our new logo is bold, with a quiet confidence. Just like us! We wanted something distinctive that makes a statement about who we are – visionary but trusted, dynamic but grounded. It stands out from the crowd without being flashy or ostentatious.
Our new website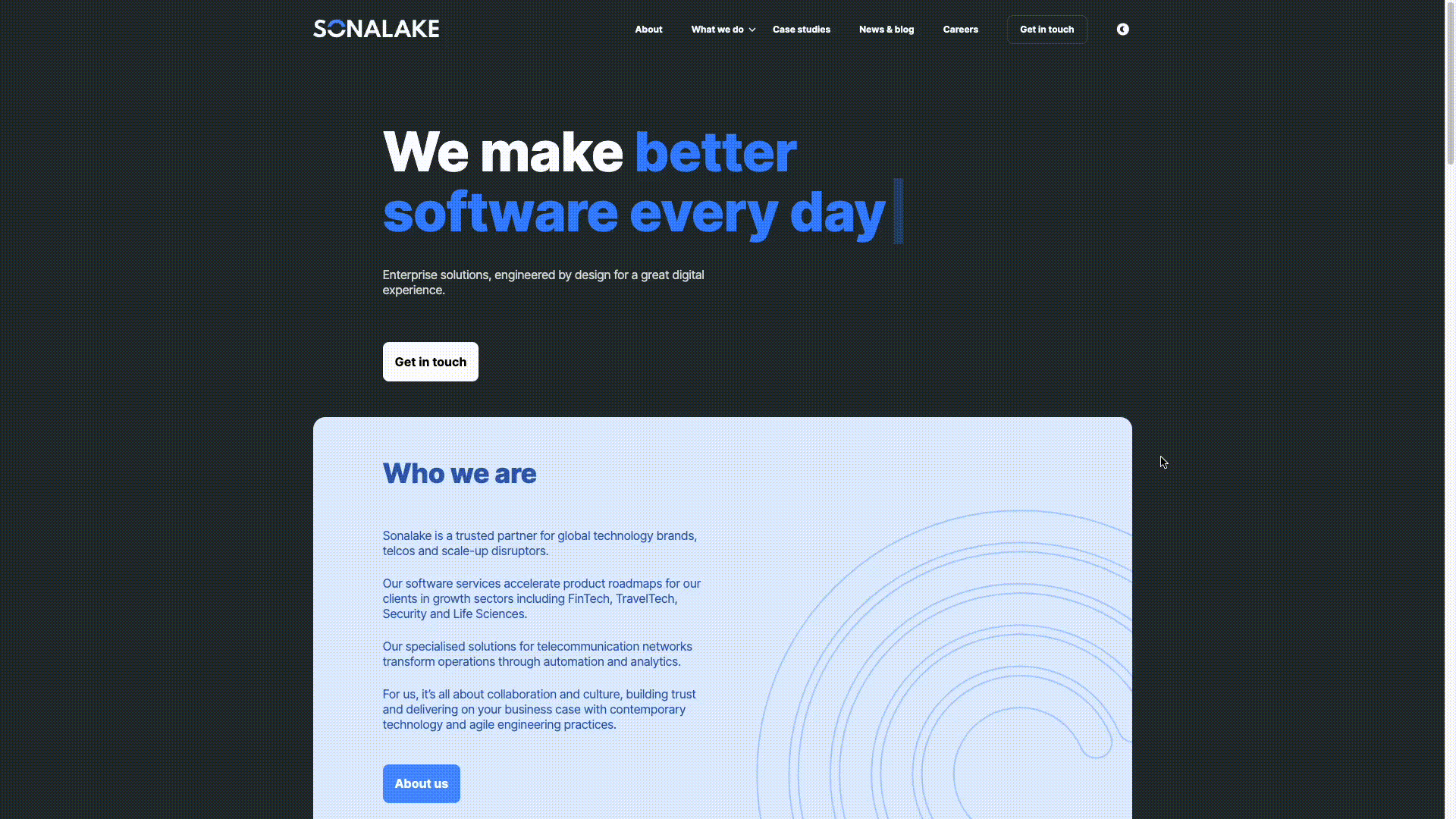 We've always tried to find the best way to do things when it comes to our software and services. We've now applied that principle to our new website to make sure that you can quickly find the information you need. It doesn't just look great, although we do love its clean, sophisticated aesthetic. It's now even easier to navigate and it demonstrates our commitment to intuitive design.
New visuals, same vision
We're incredibly proud of our revamped visual identity. We believe it captures our company's personality, values and vision and we're delighted to be able to share it with you.
Why not take a few minutes to explore our new website and check out our new Twitter and LinkedIn pages? Let us know what you think.
Are you looking for design services, want to bring your product to the next level, unsure of where to start, or want to create a new experience? Our design team can help you identify the problem you need to solve. Get in touch via our contact page to get started.